Startups
ME-RIISE FOUNDATION
Malnad College of Engineering (MCE) is an education institute established in the year 1960 as a joint venture of Government of India, Government of Karnataka and the Malnad Technical Education Society at Hassan, Karnataka. The institute has a talent pool of 9 Engineering Departments, with 200+ faculty and 3500+ students on roll.
Furthering its objectives beyond education MCE undertook to create social and economic impact in the Hassan region by supporting innovations and start-ups in the field of agriculture, education and technology in the year 2018. Thus, Malnad Enclave for Research, Innovation, Incubation, Start-ups and Entrepreneurship (ME-RIISE) was formed by MCE in the year 2018 to initiate its above mentioned objectives supported by Management, Teaching staff and Students. Over the years, ME-RIISE has orchestrated more than 100 events and initiatives, resulting in significant benefits for over 3000 students. Through these endeavours, ME-RIISE has successfully supported in bringing out eight innovative prototypes and created nine new applications.
As a step towards further expanding its reach and enhancing its impact, ME-RIISE has set up a distinct entity, a Section 8 company, ME-RIISE FOUNDATION promoted by Malnad College of Engineering in September, 2022. This Section 8 company is composed of 5 Directors and 2 Advisors. ME-RIISE FOUNDATION is committed to promote innovation, incubation, start-ups, and entrepreneurship in the region and expand its reach, enabling students/ youth and aspiring entrepreneurs to realize their potential and contribute towards the growth of the economy. ME-RIISE FOUNDATION is committed to build upon the legacy of innovative activities established by ME-RIISE and further expanding its scope. In order to realize its vision, the foundation will work in collaboration with Malnad College of Engineering (MCE) to promote innovation, incubation, start-ups, and entrepreneurship.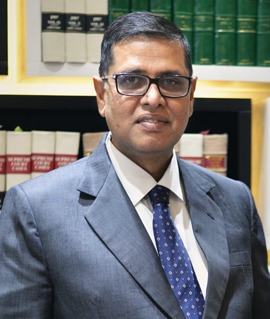 Sri. Ashok Haranahalli,
Chairman, ME-RIISE FOUNDATION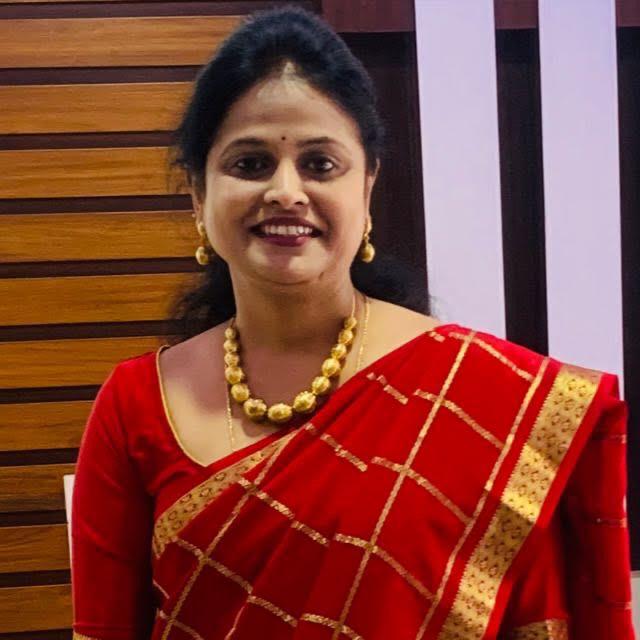 Dr.A.Geetha Kiran
CEO, ME-RIISE FOUNDATION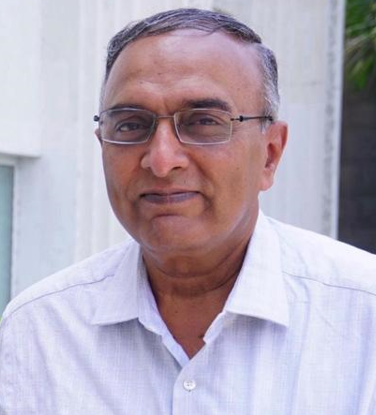 Sri. Ananth Ravi, Director, ME-RIISE FOUNDATION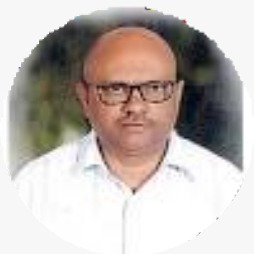 Sri. S G Sridhar, Director, ME-RIISE FOUNDATION
Dr. S Pradeep, Director, ME-RIISE FOUNDATION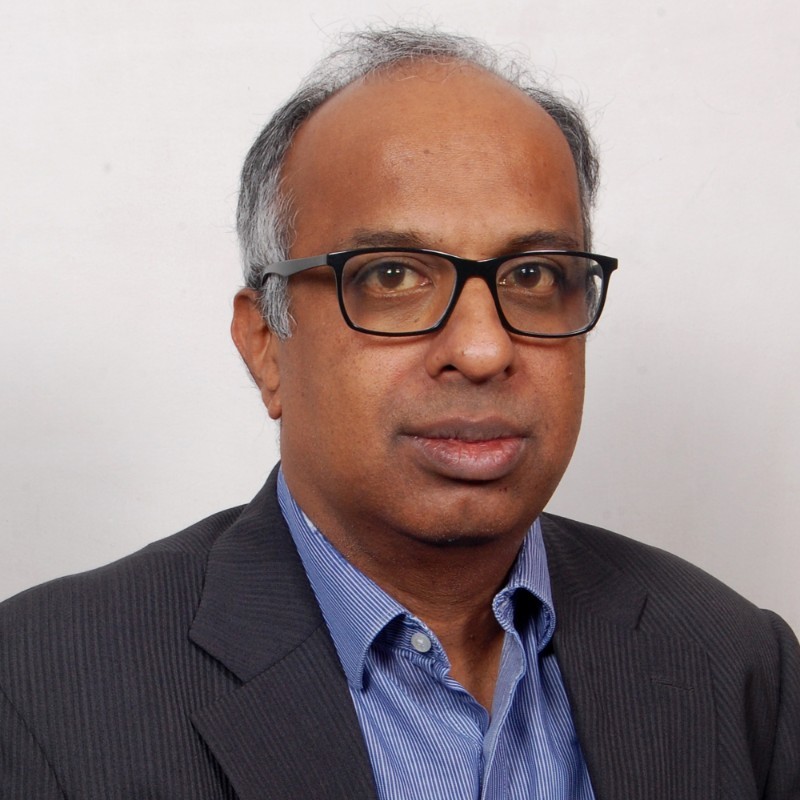 Mr. Krishnaswamy Subbarao,Advisor, ME-RIISE FOUNDATION
Mr. Kiran H A, Advisor, ME-RIISE FOUNDATION
Proposed activities of ME-RIISE FOUNDATION are:
Application of technology to promote arts, commerce, science, sports, education, research, social welfare, religion, charity, protection of environment.
Providing the young graduates adequate management and technical training that will enable them to be creative and innovative in promoting business opportunities.
To create job and employment opportunities for the region of our nation.
To incubate the spirit of perseverance in the youths.
The foundation aims to create an abundance of opportunities for aspiring students and instil an entrepreneurial spirit within them. Moreover, it can contribute to the growth and development of the region by fostering innovation and encouraging the creation of new start-ups.
Chathur Pravarthan Private Limited
Chathur Pravarthan Private Limited incorporated in November 2022, is an outcome of the project "Solar Panel Cleaning Robot" sanctioned by New Age Innovation Network (NAIN), A GoK, Initiative.
Directors- Dr. Geetha Kiran A, Dr. Mohana Lakshmi J and Mr. Achal J.
The startup is working towards development of smart sustainable solutions for the future needs. The startup has implemented 2 successful working prototypes "Automated and real time monitoring of water for irrigation purposes" and "IoT based smart waste segregation system".
Currently, the startup is working towards development of "Development of sustainable agro intelligent systems using IoT"
Developers Community
Started by Adarsh D and Manoj Kumar H R in the year 2020. Our motto of this community is to spread knowledge and develop interests in the students to learn coding in the industry standard and contribute to the college and society.
VISION
We have the vision of developing Projects at Industrial Standards for the betterment of the society and provide a platform for upcoming talents in this field.
MISSION
1. Provide learning ambience to generate innovative software projects with professionalism.
2. To create facilities and expertise in software development.
3. To induce ethical values and spirit of social commitment.
TEAM MEMBERS
SENIORS
Adarsh D
Manoj Kumar H R
Harshitha
Pratheeka K
Nithin
Amritha
JUNIORS
Shreyas H C
Nikhil S Bhat
K B Srushti
Srilakshmi
Uthsavi
Subramanya
Amogh
Savyasachi Bongale
Shishir
SOPHOMORES
WORK DONE
Developed a web-based application for monitoring people under home quarantine during the pandemic situation of COVID-19. This app was handed over to police department for their use.
Developed Leave Application for Hassan Police Department.
Developed Leave Management System Application for MCE.
MCE online system service tracking portal.
Developing MCE- Faculty Development Program portal
Developing MCE- Temple management application for Divya Chaitanya and Ganapati temple
Designing wed-based platforms for various applications, imparting coding knowledge to carryout realtime projects.
Developed a portal to register for Micro Engineering Certification Program.
Management seat booking for Malnad College of Engineering.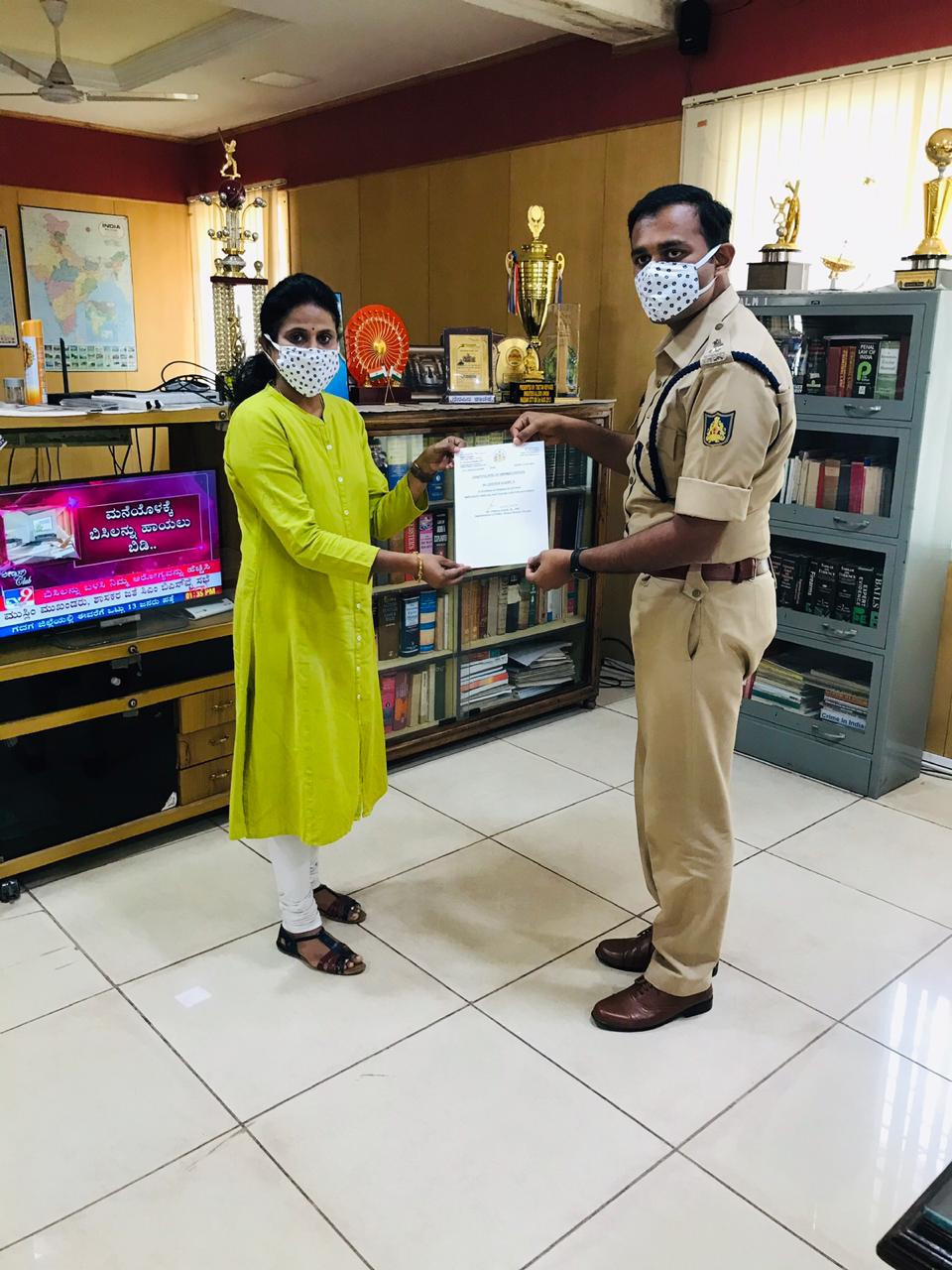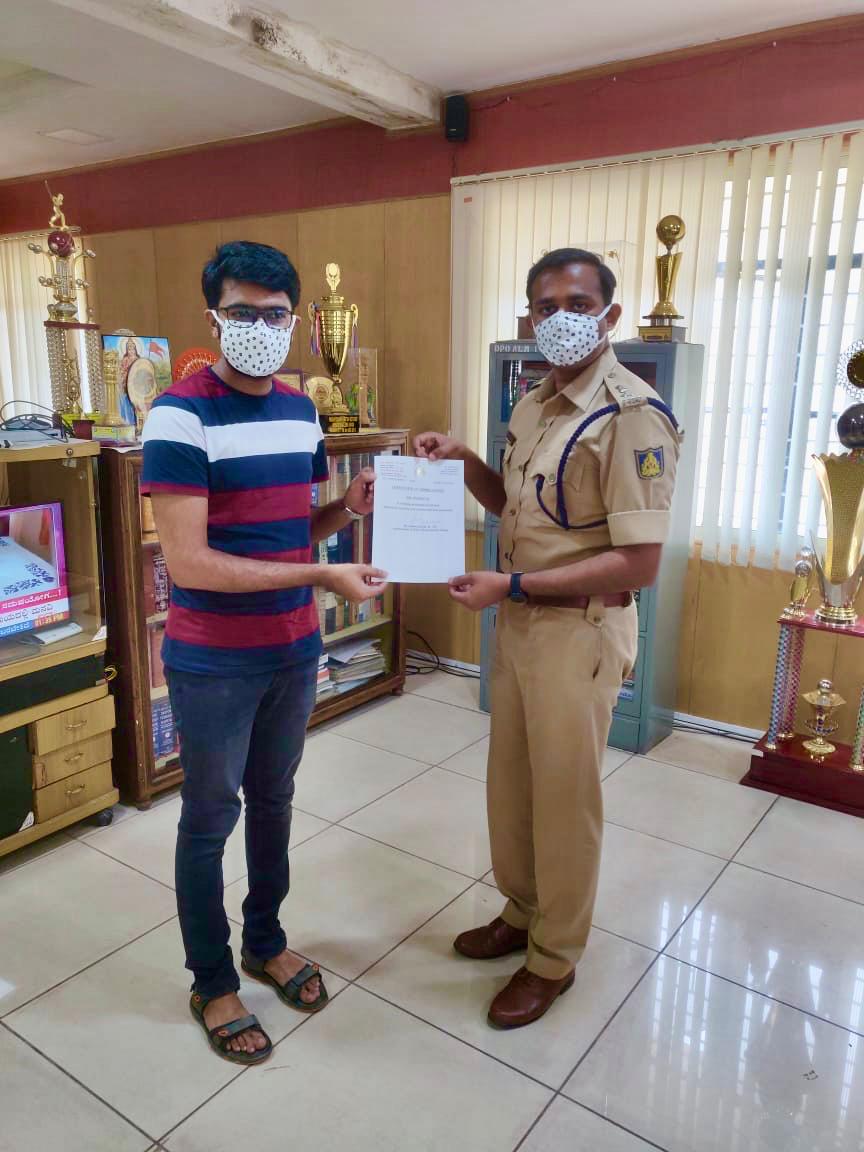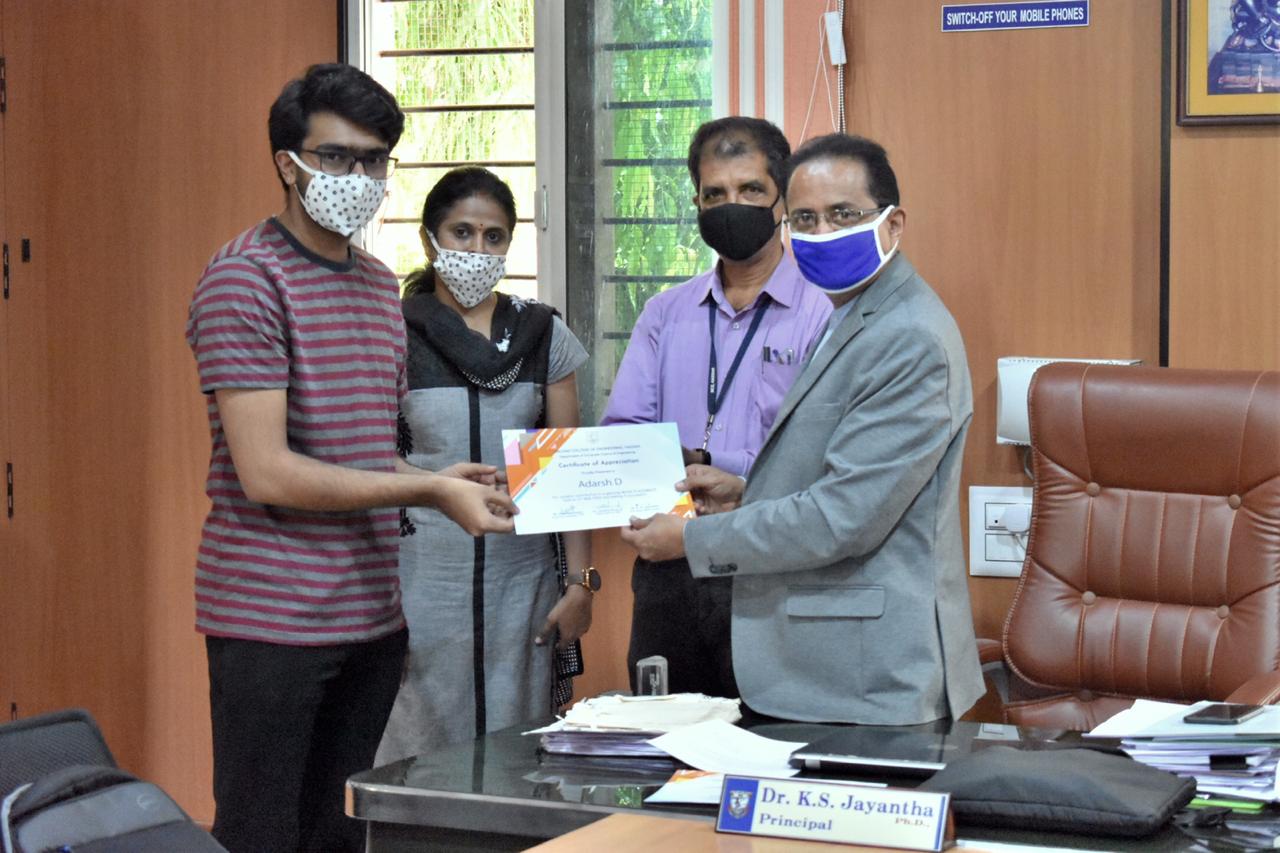 TechKids
TECHKIDS
VISION
To be an institute of excellence and nurturing young minds for better future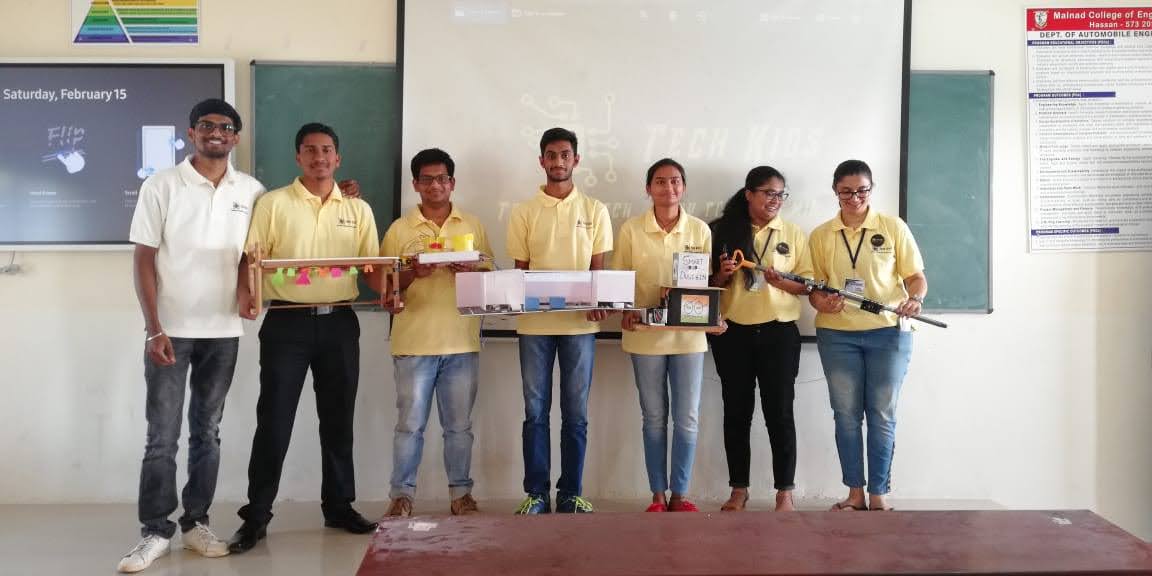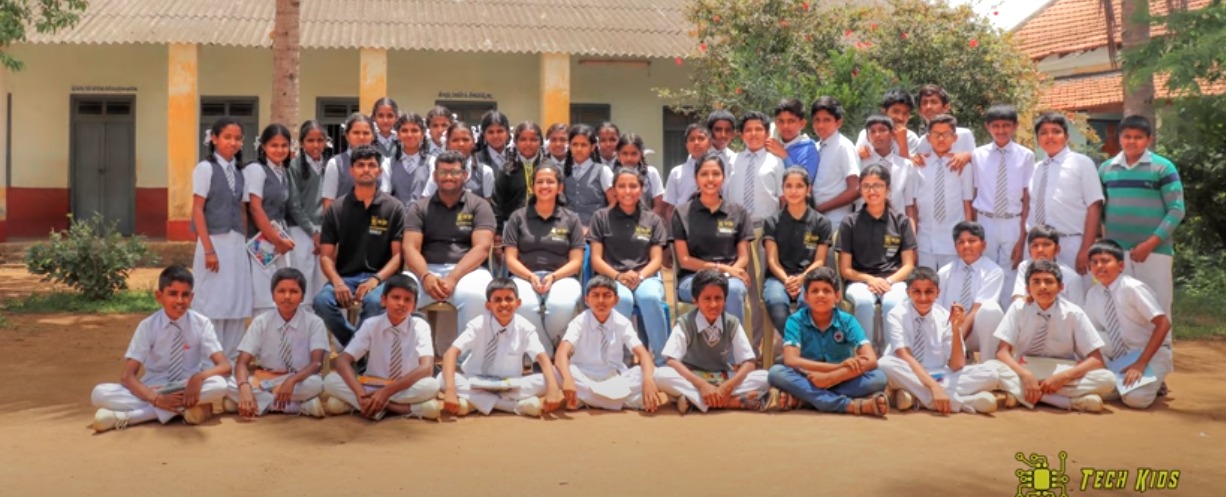 MISSION
To provide technical knowledge for young minds, thus empoweing bright future. Tech Kids was founded by SHASHANK H P Techkids is an initiation of technologies in young minds via technological literacy programs taught during school hours and after school activities
GOAL
To ignite passion in students and to enhance the technical skills of future India.
Through this student get a grip on -
1. Learning programming by scratch
2. Hands-on working experience with microcontrollers and various modules.
3. Team working skills.
4. Students will transform from passive technolgy users to passionate innovators.
5. Competitions conducted at the end of the help the students to showcase their skills.
WE
ENLIGHT - about need of technology
EXCITE - students about learning
EDUCATE - students with skills
EMPOWER - to learn problem solving
EXPLORE - pave way to explore themselves
WORK DONE
They have
1. Conducted workshop for government school students at Bhuvanahalli.
2. Conducted crash course for 1st year students on "Overview of Motorcycle" and "Build your Website".
Testimonials
Being a part of techkids is itself only a pro thing. I took part in both automobile workshop and winter internship, it was awesome to be there. My mentor in both sessions was Shashank H P. It was almost a bliss to have him as a mentor, be it the teaching or hand in experience, he did the best. The sessions were best, he used to tell us everything regarding subject and dealing with issues which may occur in learning it. The best part was that we weren't feeling it as a class, but as a discussion between friends about a topic and he made us feel that way. In automobile workshop, we had a typical internship feel. For explanation, he would bring all the parts, we were supposed to see it and make reports of it. In the end we had a great hand in experience day at automobile workshop. On that day we disembeled engine parts and re arranged it in same way. He told his experience and that inspired us to do something out of the box. He told us ways about how can we shape our future according to our needs and deeds. The next session was about coding. He knew about our situation as fresher, for me personally, I didn't know anything about coding. So he taught us about everything from the scratch. From no knowledge about coding to do a project based on coding was a great success for us. He was all supportive all along. He gave us a great tool kit and greater knowledge. The first day started with an open Introduction of ourselves in a fun way, so that we feel comfortable. From coding to bug solving to soldering to product design he made us do it all. We even did field trip for our project in a blind school, the confidence we gained were visible. He also told ways to interact using linkedin and made it sorted for us. It may feel as I amexagerrating, but it is what it is, he made it easy for engineering and after. I wish I had got more time with techkids and this amazing caring mentor Shashank anna. Even admist of his busy life he made time to help others, it's so great of him. At the end of internship he made sure that we present our projects in front of faculty, so that we get 100% of it. And it all went well. And I must say 90% of the confidence I have today is because of workshops. Thank you so much anna for everything!!..
- Aishwarya R Dinaguru, Tech Kids Participant
As part of techkids ' intern I couldn't feel anything less than awesome. The whole setup was so enthusiastic and informative. Side by side it was fun too. Each day we were getting new things to learn and use. Even though we were dealing with very new concepts wrt us,we didn't feel any difficulty in learning it. And all the credit goes to our mentor Shashank HP. The whole intership was like a mission. Our mentor helped us to overcome our fears and made it as our plus points . He wasn't leaving any stones untouched. He would put us to do all things we were supposed to do in future days. For someone who didn't know how to coding,doing a whole new project was unbelievable. He made sure that we do it with all our hearts. His tutoring was so simple, even beginners can get it all. He gave personal space for each one of us to learn at our own phase. Daily reports, hand in experience, the data collection solving the problem statement, logically thinking of a sustainable solution, discussions,amendment of our project plan,coding and finally presentation. It was huge and he made it feel so easy. He was there until end and we couldn't thank him enough. As a person too, he was very friendly and caring ,he didn't judge us even if we lack at doing something, inspite of it he taught us more . He used to guide us about everything be it academics or anything else. He was there all along. Even if we can accomplish half of the things we have got to learn in this internship. It's worth it. Finally I want to thank shashank anna for all things he has given us. Even in his final year of engineering, he sought a way to show some light to fellow juniors. I did a project on smart blind stick in my second workshop with his guidance. Thank u anna for everything.
-Punya Venkatesh, Tech Kids Participant
I was very happy that someone from maland college is offering intership for students that to in robotics and iot .so I joined tech kids winter intership very curiously and mentor shashank anna teached us very well about the robotics and iot . The intership was very welly organised by offering separate class and by providing basic equipment for that intership , shashank anna thought us very well from basic not only robotics and iot. there are many special classes also organised like class on soldering, ppt presentation etc which are very useful and the way that intership carried by shashank anna is very appreciable and shashank anna also organised a presentation ceremony where we show cased our developed project to many lecturers of maland college. At last we recieved a certificate for our intership . Overall it was a fantastic experience to learn from shashank anna Thank you for organizing this intership and making us to learn something during holidays .
- Dhanush S K, Tech Kids Participant
Tech@10
GOAL
It was started by Likith.H.N, president of ME-RIISE in the year 2019.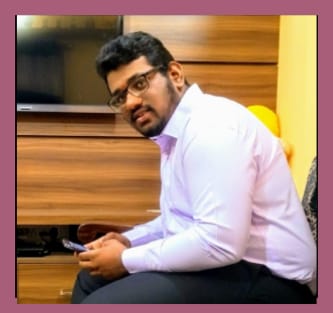 It was started with only goal of teaching the budding engineers move towards their destination and improving our knowledge in the course of teaching.
Tech@10 is a new platform for budding engineers to learn skills like
1. Programming in different languages.
2. Developing apps.
3. Embedded electronics.
4. IOT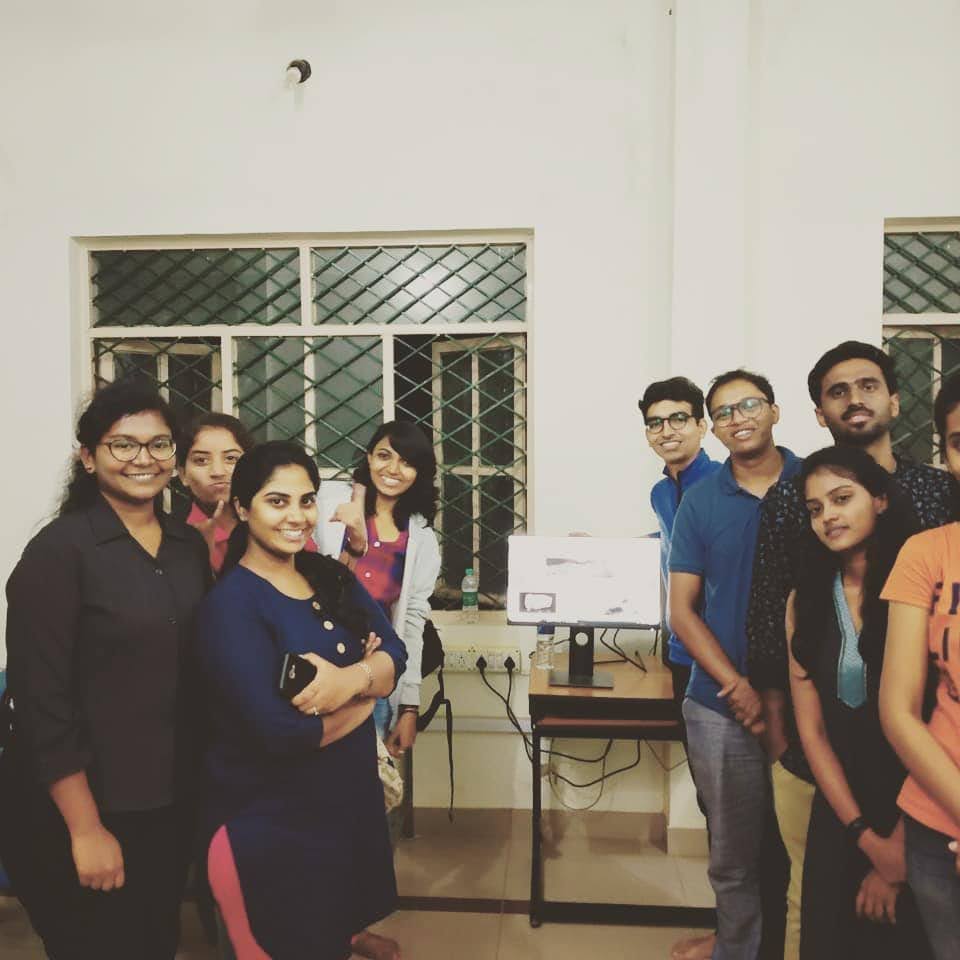 MOTTO
"We teach to learn"
Till now
Total sessions - 5
Total attendees - 96
Average attendees per session - 19
Profit - 960 rupees
WORK DONE
They have
1. Conducted workshop for government school students at Bhuvanahalli.
2. Conducted crash course for 1st year students on "Overview of Motorcycle" and "Build your Website".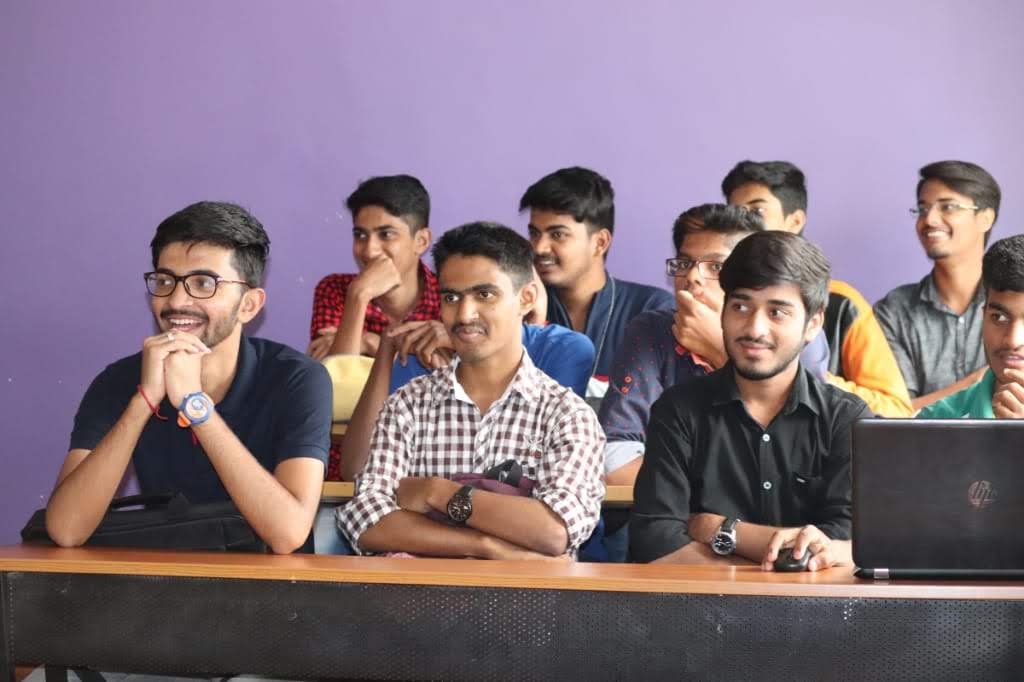 Testimonials
"I'm Shashikumar. I have attended the sessions of C programming and internship of IOT and App development in Tech@10. The whole idea of Tech@10 is very new. They charge only Rs 10 per session which is cheap. It is useful for most of the students. We had a subject regarding C in our 2nd semester. So those sessions helped me alot to understand C programming very well. The concept of IOT was new to me and tech@10 made me understand very easily. The way they teach will be very approaching. They make the topics very clear by giving examples, slides and many more. My personal suggestion is attend 1 session, then definitely you are going to attend every sessions. "
- Shashikumar, CS 3rd year
"Hello Everyone, My name is Varshini. As a student of Malnad College of engineering, I have found the best platform to learn technology based things. I have never seen such a great learning platform before which provide you the technical knowledge just @ Rs. 10 . They are also providing various courses like app development, Java, python etc as an internship to you which will help you in your career. Mr. Likith, as a founder of Tech@10 with his innovative ideas doing a great job and I really like to thank him for giving me a great opportunity and very good experience which will definitely help me in my career. Thank you Tech@10. Have a great Success in future! "
- Varshini, IS 3rd year
"My Tech@10 experience is awesome.I have learned many things about home automation,arduino,nodemcu and IoT based projects on the 10 days program Home Automation Internship conducted by Tech@10.Likhith who conducted the program taught us all the concept nicely."